Hi, we're Royal Minidoodles.
We are premier breeders of English Cream Goldendoodles also known as white goldendoodles or British type goldendoodles. We specialize in the miniature stature of goldendoodles using championed lines from both English Cream Golden Retrievers and long legged white Toy Poodles. When we researched our breed we discovered some important things. The health benefits of the English Cream Golden Retriever were superior to that of the American Golden Retriever. The intelligence of the poodle as well as the low to minimal shedding coat gave families with allergies an opportunity to welcome one of our fur babies into their homes. Lastly, the smaller size of the toy poodle produced a manageable size for all families. We decided to breed this combination to offer beautiful, healthy, mini goldendoodle puppies that give us the best of both worlds!
Our dogs come from top quality bloodlines.
Our puppies are more than an adorable face. Our number one goal is providing you with a puppy that has a sound temperament and the health to back it up. We do everything possible to ensure that your puppy is with you, making a difference, for years to come. At Royal Minidoodles, we only use parents with champion bloodlines from all over the world including Sweden, Ukraine, Serbia, UK, Japan, and more. When looking through our pedigrees, you will find multiple championships in conformation, field trials, obedience and more.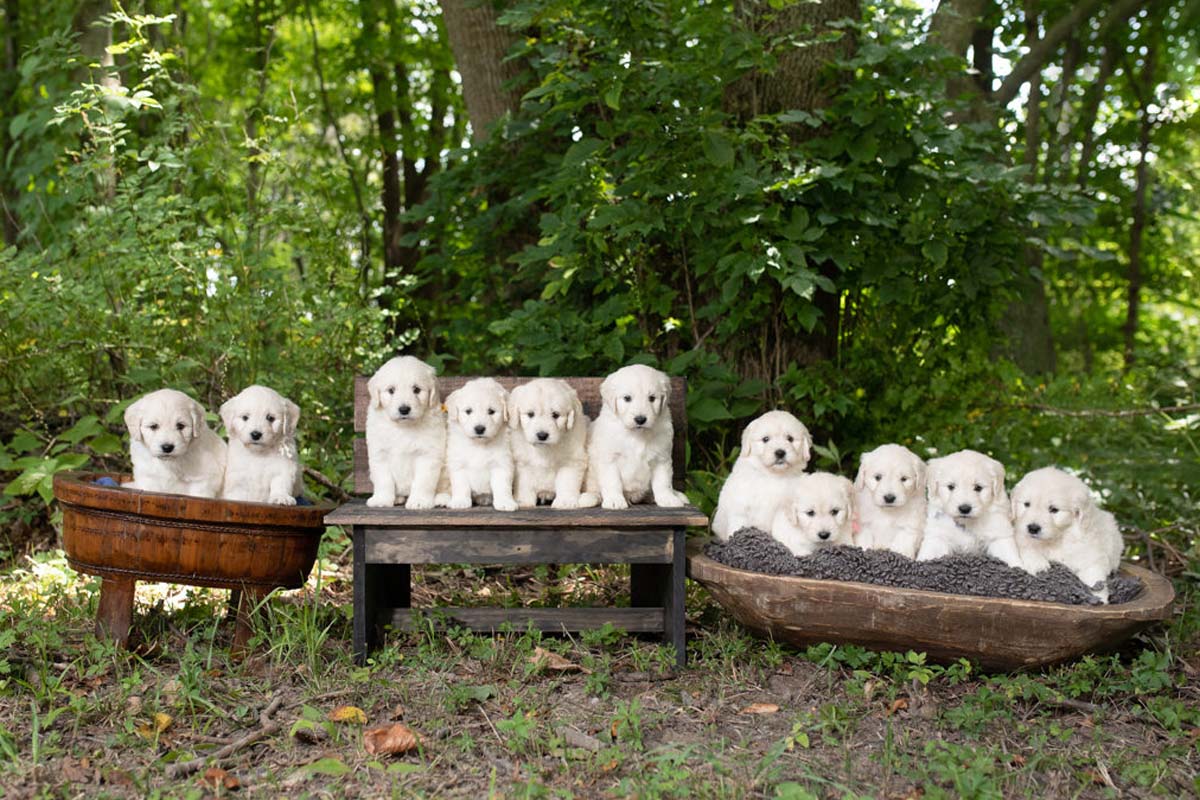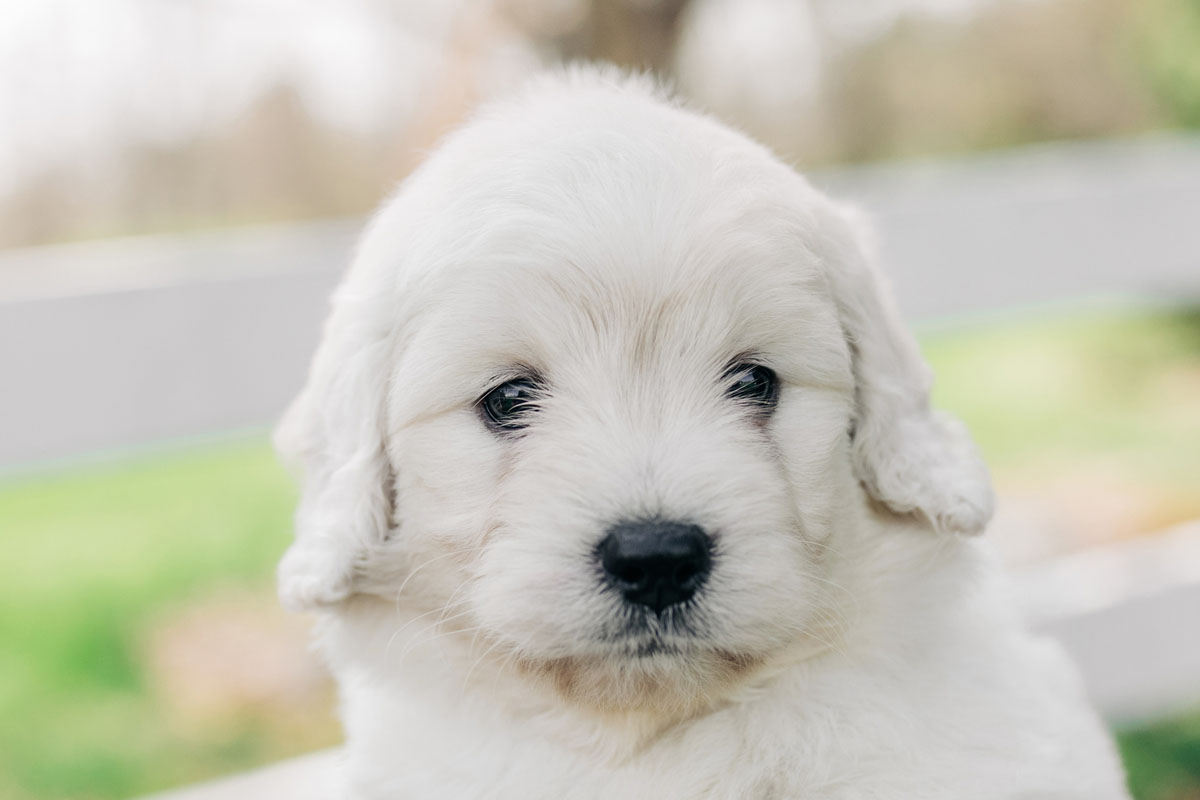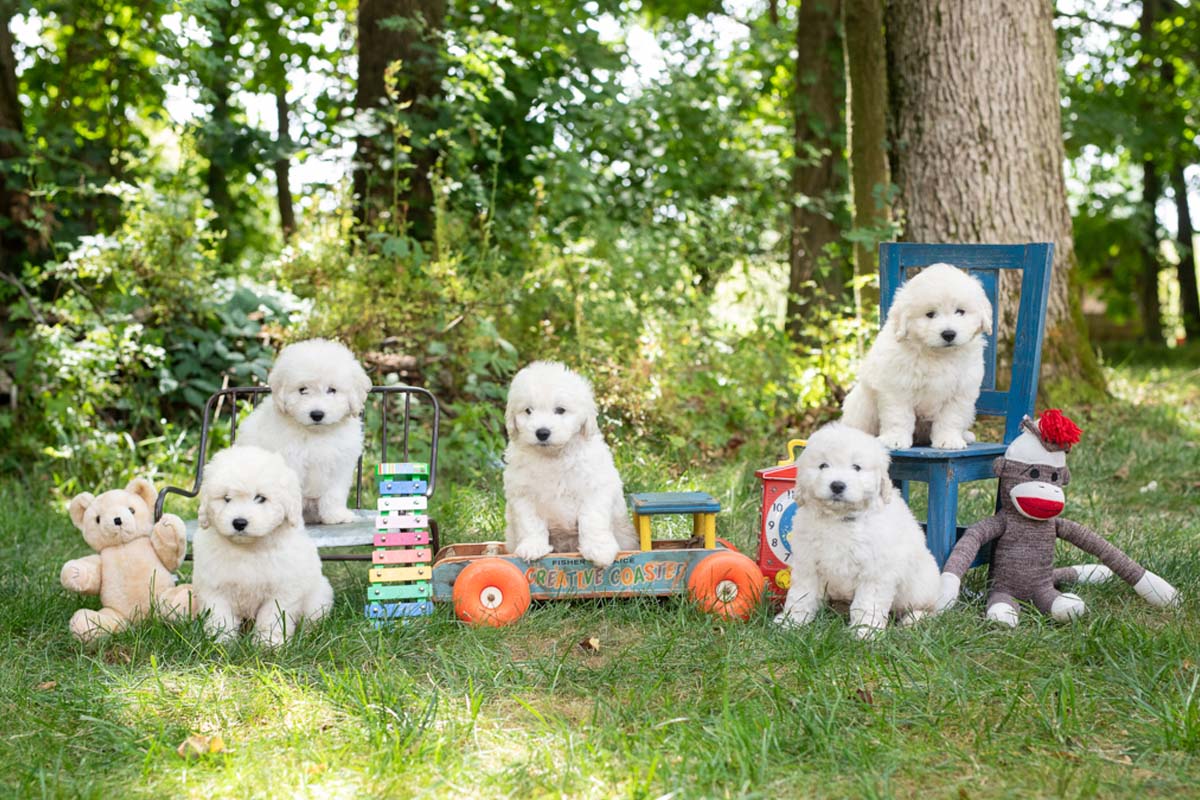 Each dog that is used in our program is extremely vetted. In addition to conformation, our dogs must pass health clearances — including hips, elbows, eyes, heart, and ICH testing — before admission into our program. It is important to understand that our AKC Championed sires are genetic long-legged toy poodles with patella clearances. Long-legs will ensure that your dog is proportionate in size, allowing for proper distribution of weight and healthier joints.
Here at Royal Minidoodles, we breed F1 & F1B Generation English Goldendoodles.
Our F1 English Goldendoodles are a cross between an English Golden Retriever and our long legged Toy Poodle (50% English Golden Retriever/50% Poodle). They tend to have a wavy to straight coat. They usually have a blockier stature from the English Golden Retriever. Our F1's range from 15-35 pounds.
Our F1B English Goldendoodles are a cross between an F1 English Goldendoodle and our other long legged Toy Poodle (75% Poodle/25% English Golden Retriever) making them more hypo-allergenic. They tend to have a more wavy to curly coat. Our F1B's range from 12-20 pounds. We keep our F1B English Goldendoodles until 10 weeks of age.
The Royal Difference
We breed Champion purebred, AKC registered English Cream Golden Retrievers to Champion purebred, AKC registered, long-legged, white Toy Poodles. They come from long lines of champions with near perfect conformations. In addition to championship bloodlines, we ensure health by obtaining health clearances on all of our parents unlike many other doodle breeders. The puppies produced are gorgeous in color and have blocky heads, not to mention the innate sweet temperaments, beautiful coats and gentle souls. Furthermore, they are incredibly smart and snuggly. Our puppies are raised with children and exposed to all environments to ensure there is a puppy to fit every lifestyle.
Champion Bloodlines

All our dogs come from
 incredible lineage.

World-Class Training

Our puppies come with ENS and Puppy Socialization, with the option of 2 or 4 week program, to ease the transition into your family life.

Core Clearances

Hips. Elbows. Patellas. Eyes. Heart.

F1 & F1B

We breed both first-generation & second-generation goldendoodles

Family Raised

All puppies are born, socialized, and raised on our Indiana farm.

Making a Difference

We have trained companions, service dogs, therapy and emotional support dogs all over the US.